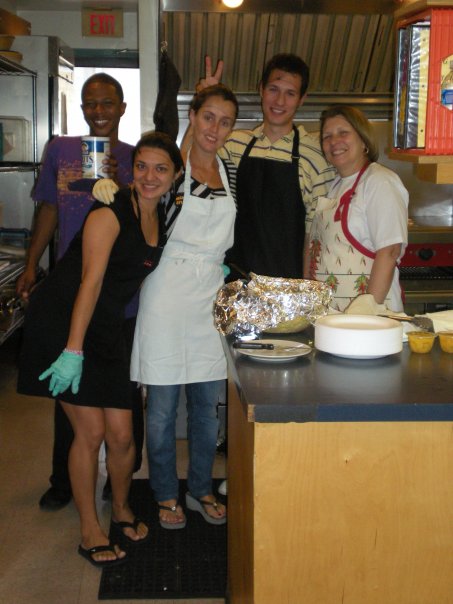 "Lord, when was it that we saw you hungry and gave you to eat, or thirsty and gave you to drink? When was it that we saw you without a shelter and sheltered you, or without clothes and clothed you? And when was it that we saw you sick or in prison and came to visit you? And the King will respond to them, 'Verily I say to you, as often as you did it on behalf of the least of my brothers, it was to me that you did it." (Mt. 25:31-46, in The Gospel According to Spiritism)
"Remember that Jesus said that we are all brothers and sisters; always think about that before rejecting the leper or beggar." (The Gospel According to Spiritism)
"Even if I were to speak all the languages of men and the language of the angels themselves, if I did not have charity, I would be only like a sounding gong or a clanging cymbal. And if I were to have the gift of prophecy and grasped all mysteries, and if I had a perfect knowledge of all things; and if I had all the faith possible to the point of moving mountains, if I did not have charity, I would be nothing. And if I were to distribute my belongings to feed the poor and delivered my body to be burned, if I did not have charity, none of this would be of any use to me. Charity is patient; it is kind and benevolent; charity is not envious; it is not rash or hurried; it is not full of pride; it is not scornful; it does not look after its own interests. It does not take offense or become upset by anything; it does not suspect evil; it does not rejoice in injustice, but rejoices in the truth; it bears all things, hopes for all things, endures all things. Now, these three virtues remain: faith, hope and chariy, but among them, the most excellent is charity. (I Cor. 13:1-7, 13, in The Gospel According to Spiritism)
As Spiritists, we understand the importance of assisting brothers and sisters who need the work of love, which is often immaterial.
Our group of volunteers has worked with the three organizations displayed below for a few years (you may click the organizations' respective banners to find out more about them).
If you are interested in joining our family of volunteers, please click on our "Contact" tab to e-mail us regarding your fraternal interest.
Kindly,
The Spiritist Society of Philadelphia
Click Here to view our 2011 volunteer schedule (times and dates may be periodically updated).

FOOD
Coffee, tuna in water, peanut butter
TOILETRIES
disposable razors, shaving cream, bar soap, shampoo, toothbrushes
HOUSEHOLD ITEMS
Paper towels, toilet tissue, bath towels, linens for single beds, blankets, air freshener, 13-gallon trash bags
SERVICES
heating & AC services, landscaping, locksmith services, duct cleaning, commercial & residential appliance repair, carpet cleaning
SEPTA TOKENS

SAINT JOHN'S HOSPICE WISH LIST:
Clothing
-New Underwear … briefs, boxers, T-shirts (large  and extra large sizes are most needed)
-New or Used shirts, pants, shorts (all sizes …   30-38 are most needed)
-White Athletic  Socks
In the Winter
-Thermal underwear  & socks
-Coats, gloves,  scarves, hats
-Sweat Suits
-Sweaters
-Blankets
-Towels
Toiletries
Small  sizes are best for distribution but we can use large sizes for our  residents. 
-Soap
-Disposable razors & shaving cream
-Deodorant
-Shampoo
-Toothbrushes, toothpaste, floss
-Hand Lotion
-Combs
We do not distribute mouth  wash or after shave lotion with alcoholic content.